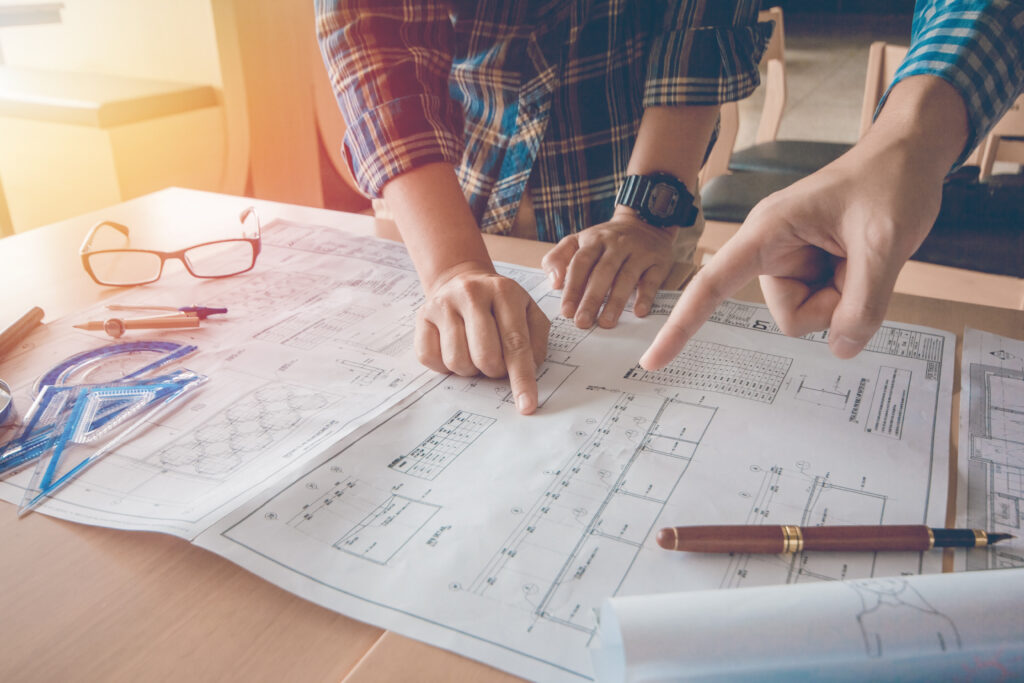 A custom home project can be an incredibly exciting experience, and Talon Home Builders strives to make it memorable from start to finish.  It's important for us to earn our customers' trust and build a relationship with open communication.  It's imperative to know what you can expect from the entire process.  In the following bullet points – we offer a brief understanding of how we move through the process of building a custom home.
What to Expect When Building a Custom Home?
Maybe you found Talon Home Builders during a Google search – or maybe you heard about us from a friend – however it is that you stumbled upon us – we are so glad that you have!  We welcome the opportunity to earn your business and look forward to guiding you through the new home build process.  Our first communications and introductions with customers are typically over the phone or via email.  We get to learn about the vacant lot that they've just purchased or the home they've owned and are ready to tear down and start fresh.  We get an opportunity to determine if we are a good fit for each other and if so, we'll continue the conversation with a meeting in our Sarasota office to get better acquainted with each other and start discussing the goals of the project!
Goals of the Project
Most of our clients have spent a lot of time & energy researching what they want in a new home.  They create Pinterest boards or files with images and ideas of features that they want to incorporate into the home – a wish list of sorts.  From these INSPIRATIONS we build a strong comprehensive understanding of the project goals to help guide the shape and flow of the new house.  We will ask dozens of questions to help our customer understand their options when it comes to the structural design of the home and creatively gather information to produce a one- of-a-kind finish that meets each client's specific needs.
Design Agreement
Once we understand more about the size, finish level and budget for the home we move into the DESIGN phase where we help facilitate the creation of the custom home!  We partner with some of the most talented drafting teams in the community to help our clients develop their custom floor plan.  This process is where the fun really begins!  Together with creative minds – we come together to form the framework of the home and provide feedback to each other on every detail.  We will talk about how furniture layout can affect a door swing or what the best use for each space is. Every Talon home is unique and one-of-a-kind designed with each client's specific needs in mind!
Budget
The cost of a new custom home is something we discuss early in the introductory phase of the process.  Most potential clients ask, "What is the square foot cost to build a home."  Our answer is…..it depends!  There are so many factors that go into the cost of a new construction project.  For example:  Where is the home going to be located?  Is it in a flood zone?  What level of finish is desired?  Is it in a community that requires certain criteria to be met?  Is there a large amount of sitework needed before starting the build?
Talon Home Builders designed a specification package to appeal to several different budget levels.  We offer Bronze, Silver and Gold packages as starting points to help identify a ball-park square foot cost.  Each home has the same structural components – but the finish for each series gives the customer a little something more as you move up through the levels.
Contract & Selections & Building the Home
We work closely with our building partners after the plan is developed to gather quotes and prepare budgets that result in fine-tuned contracts.  The final plans are formatted into construction documents for engineering and permitting – then we are off to the races!  We do our best to prepare the site so we can begin working on the foundation as soon as the permit is issued.  While the wheels are in motion to get the house started, we meet in our showroom to make the exterior & interior selections.  We offer dozens of options for each finish of the home and if there is something special that you want to incorporate into the project we are happy to find it in the local & international market-places!  We schedule meetings for our customers to review landscape plans, pool packages, and several other important scopes of work to be sure you get an opportunity to understand all of the options available to you!
We keep our customers informed about the progress of the home with emails & pictures on a regular basis.  We will frequently be contacting you as the progress continues to be sure the decisions that were made during the color sessions are still valid and we haven't overlooked any details or changes that might have been made after the contract & plans were signed.  We do our very best to keep the job moving swiftly and keep a tight schedule to get you moved into your new home in a timely manner with zero defect at closing!
Testimonials About Building a Custom Home That You Can Trust
Talon Home Builders has many satisfied customers that have shared their experience through written testimonials. Talon is committed to giving each customer an amazing home building experience and has no doubt that when they are living in their new home they'll be glad they chose Talon for their project!  We love turning Dirt to Dreams – please let us know if we can help with your next custom home project in Sarasota or Bradenton Florida
If you are interested in discussing a custom home project, contact us today at (941) 320-8485!