If you've ever dreamed of having your own custom home, you may feel intimidated by the new home construction process of making that dream come true.
The fact is, building your own custom home can be an amazing experience – it just takes some careful planning and preparation before you begin the process.
New Home Construction Tips for Building an Amazing Home
From finding the perfect property to getting your home through the building process in a timely manner and without any unnecessary snags, here are tips to help guide you through building your custom home from start to finish.
1 – Size of the Lot You Want to Build On
Starting out small? Want more space? Is a live-in handyman what you need? Are your design dreams stuck in your head without something to back them up? These are just some of the things you'll want to consider when building a custom home from scratch. Before diving into construction, there are several questions that must be answered first. This includes determining where on the lot you want the house located. The size of the lot will determine the type of custom house you will build.
2 – How You Plan to Build It
There are many decisions that need to be made when building a custom home. Some homeowners may want to work with an architect and/or contractor, while others may prefer to take on more responsibilities themselves. If you do not have a lot of time or money, stick with a pre-built model in your desired neighborhood. Once you've narrowed down your choices, it's worth considering what type of layout you would like most.
3 – Design of Your Custom Home
Your new home construction should reflect your lifestyle and meet your needs. It's important to sit down and make a list of what you want from your home so that you can find an architect who is a good match for you and your family. Think about how much space you need, where your kids will be going to school, and whether or not you'll have pets at some point. Be sure to take note of any existing architectural details that are integral to preserving the feel of the surrounding neighborhood in order to create a cohesive look.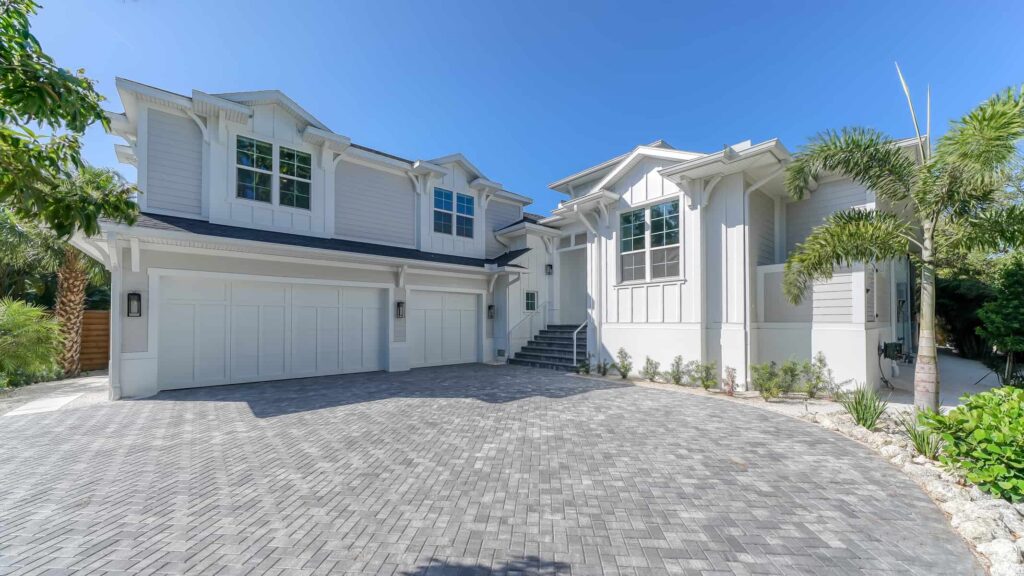 4 – Exterior
For many people, when they picture a custom home, they think of an imposing structure. The exterior should feel inviting and create a positive first impression on your visitors. There are three main things to keep in mind when you're considering designing your custom home's exterior: landscaping, design, and materials. Landscaping should be low-maintenance and designed to create shadows during different parts of the day. If possible, try to incorporate multiple shades into the design by using trees, plants, or flowers. While getting down to brass tacks as it were, there are also plenty of choices in material including brick or stucco cladding as well as siding types like vinyl or wood.
5 – Interior
Focus on the main areas to save time and cost. You only need to fill up your house with furniture in a couple of rooms, so think about which spaces will give you the most return on investment. Design those rooms first, and consider adding pieces over time instead of buying them all at once.
6 – Location
Choose a building site for your new home construction that has easy access to public transportation, groceries, stores, and schools. This way you'll never feel too far away from anything and will spend less time in traffic or on public transportation. This is a highly personal choice, as some people prefer seclusion and privacy more than others and are willing to sacrifice a little convenience to acquire that. Others may put great emphasis on being very close to schools, shopping centers, and other commercial needs.
7 – Financing Options
Your financing options will depend on your personal and financial situation. There are many loan options to consider when building a home and it is important to do your research to decide which one is best suited for you.
If you have no money down but have excellent credit then an FHA mortgage could be a good option for you. Or, if you have enough cash in hand then perhaps a straight-up 20% down payment on conventional financing with rates below 4% is your choice.
New Home Construction in Sarasota Florida | Talon Home Builders
When you choose Talon Home Builders, we'll be there for you every step of the way while you construct your new custom home. We want to make building your new home as easy and enjoyable as possible. We are committed to keeping our homeowners informed at all times and take pleasure in the high quality of service we deliver. We will oversee the craftsmanship so that you get the best quality results.
Contact us today to learn more about our custom home construction!