Our home builders in Sarasota, FL understand that building a custom home might seem like an intimidating task, but when done right it can be an incredibly rewarding experience that results in exactly the home you want.
Reasons to build a custom home
These five reasons to build a custom home are intended to show you why this might be the right choice for you and your family.
1. A Tailor-Made Space
When starting to look at building your own home, think about what would be most important to you in your ideal living space.
For example, if you have always dreamed of having a home theater with rows of plush movie seats and a popcorn machine, then you might want to build your house with this in mind.
Or maybe cooking is more your style?
If so, it might be best to make sure that there are plenty of countertops where you can do all sorts of cooking projects. But it's important not to get too caught up on one feature because there are plenty of great aspects that come with constructing your own home.
2. Maximize Design Flexibility
Do you like to decorate? Wouldn't it be great to plan out your dream home with every wall, closet, and accessory as your very own blank canvas? Now our home builders in Sarasota has you covered.
Build from the ground up or add on later if you don't have enough land; build extra space in your home as your family grows so that everyone has his or her own room. These are just some of the benefits of choosing to build a custom home! There's no need to compromise when building a custom home.
With a custom builder, you will have complete control over every detail – including design, layout, and materials. One of our favorite things about designing our homes is using natural stone and stucco because they look beautiful while still being durable in all types of climates.
For something different, we recommend having fun with the exterior by incorporating wavy rooflines or dramatic arches. If you want something that sets your home apart from the rest in the neighborhood (or town), adding architectural details such as stone pillars can do the trick!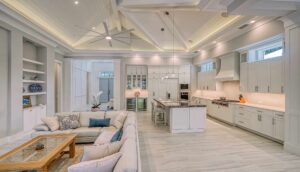 3. Get the Most Out of Your Land
You have options when it comes to your building site. From land available in already established neighborhoods or lakeside property with mountain views, new homes in planned communities can be built just about anywhere.
Site-built homes are typically more expensive than those constructed on spec but it gives you the ability to make all of the decisions about where your home will go and how it will look, as well as giving you more control over costs by doing some of the work yourself.
With custom homes, if you happen to not like anything once construction is completed, there's no need to wait years for another development – you can change it now.
4. Ownership and Control
One of the biggest advantages to building your own home is that you have complete control and ownership over it.
While this might not be as important if you are happy with what has already been built, there are many occasions when it will come in handy.
For instance, if you wanted a house but could never find one that had everything you wanted; or if you needed something specific in your budget range.
With building your own home, nothing can stop you! Furthermore, most people who build their own homes enjoy knowing how much money they saved by doing so.
5. Lower Maintenance Costs
Building a custom home gives you ultimate flexibility when it comes to your space and may even save you money on costs in the long run.
For example, if you wanted specific flooring, cabinets, counters, and paint colors, but these were not available at retail prices, they would be more expensive to purchase than they are to design.
This saves money on both the cost of the materials used as well as labor that would have been required to assemble pre-designed items.
Build Your Dream Home with Our Home Builders in Sarasota, FL
For many years Talon Home Builders in Sarasota, FL have helped many clients achieve their dream of building a custom home for their families.
When you choose to work with Talon, you'll have the opportunity to interact regularly with the company's founders. It is a privilege to serve an industry in which we take such pride and to serve the consumers that support us.
Contact us today to learn more about our new construction services!